Why KG PRO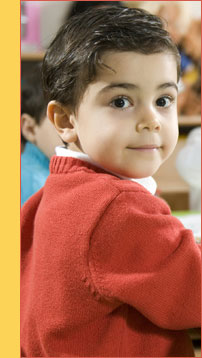 The child-centered kindergarten is not new; it has its roots in the 19th century. At that time, the kindergarten was envisioned as a "Garden for Children" (the literal meaning of the German word "kindergarten"), a place where children could be nurtured and allowed to grow at their own pace.
A child has to build skills in six different areas of development. These developmental areas are:
Physical and Motor Development

+

Focuses on body posture, balance & locomotion, team spirit and healthy competition


Important Activities:

• Free plays, organised games, pre-writing skills, etc

Cognitive Development

+

Focuses on observation & multi sensorial experience and visual & hearing discrimination


Important Activities:

• Pre number concepts, mathematical concepts, shapes, colours, etc

Creative Development

+

Focuses on exploring, diversifying and creating his own world of imagination


Important Activities:

• Cutting, folding, clay work, etc

Socio-Emotional Development

+

Focuses on etiquettes, mannerisms and building good habits


Important Activities:

• Stories, role plays,talks, etc

Language Development

+

Focuses on verbalizing thoughts, emotions and feelings


Important Activities:

• Picture talk, letter sound association, rhymes, talk time, reading, etc

Environmental Studies

+

Focuses on making aware of environment and surrounding


Important Activities:

• Theme related activities, etc
After a comprehensive study of various schools and understanding their systems, we at Intellisis believe that there is a tremendous scope for improvement to achieve these Developmental Milestones in a systematic and scientific manner. KG Pro is an exceptional educational programme that introduces academics through activities which not only invigorate the mind of a child, but also boost independence, confidence and self esteem. The KG Pro Learning System enables children to capture their imagination, and offers them a learning environment where they can make discoveries, solve problems and think independently.
A core belief at Intellisis is that no single method of instruction is all comprehensive. Hence, we have come up with a Melting Pot Approach which uses both - traditional and progressive methods of instruction, to develop a well rounded curriculum that encourages social, academic and emotional growth of the child. Listed below are some of the benefits.